From Stephen Parks, "Old Yale: Origins of the 'Lizzie'"
Yale Alumni Magazine, December 1986.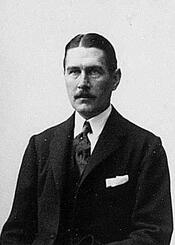 The Founder: Alexander Smith Cochran
The Club's founder was a man of considerable interest. Alexander Smith Cochran's family had been in the carpet manufacturing business in Yonkers, New York, for several generations. On leaving Yale, Cochran entered the carpet works as a hand and moved rapidly up to become president five years later. After the death of his uncle, he installed another man as president and turned full-time to his three leisure devotions—yachting, books, and philanthropy.
In 1910, Cochran launched his renowned schooner, the Westward, and sailed from America to England in fourteen days. Throughout that summer he raced the Westward in European waters, from Cowes to Kiel. His record against such famous craft as the Shamrock, the Kaiser's Meteor and the Germania was perfect. In 1914 Cochran built the sloop Vanitie as a trial yacht for the America's Cup races that year. He took the lead in organizing the crew and managing the boat in preliminary races, but the outbreak of war in August interrupted those plans. In January, 1917, Cochran turned his steam yacht Warrior over to the British Navy to be converted into an armed cruiser, and accepted the commission of Commander in the British Royal Naval Reserve to remain in charge of it. At the war's end, he was named Commander of the Order of the British Empire.
In the heyday of the gossip column, Cochran was widely known as America's richest bachelor, with a net worth of more than $50 million. His marriage in 1920 to Ganna Walska, the Polish soprano, made society headlines; the stormy divorce less than two years later made for spicier newspaper reading.